As I look out the window this morning, it looks cold and damp. The doe and her fawn, rather than leisurely nibbling on the uncut grass have rushed past into the woods, spooked by something. I really need to go and sand drywall and apply a second coat to the addition we worked on this summer, but the motivation is just not there and the pups are no help.
So as I wait for inspiration, I thought I would take a few moments to look back over what we have been involved in this year. In April, members of the Diocese of Ohio joined us for a week to not only get our looms up and running, but to begin work on a "Living History Project".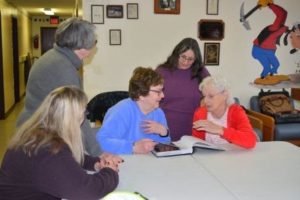 They met with local residents along with some county officials and recorded oral histories. Before the end of the year they plan to have a video and an accompanying booklet completed to present at their Diocesan Convention. It was wonderful to hear about growing up on the mountain in times when one would walk quite a distance to a one room school house,
about family, moving away and the longing to return home to family. We hope to make some of the work available on the website early next year if not before.
June brought the beginning of our more traditional mission trip season with the return of our folks from the Toledo, Ohio area Episcopal Churches. Monday began off the mountain as the group finished the underpinning for Nellie's new Tinny House. The remainder of the week was spent working at St. Timothy's helping to paint and repair,
build a casket as well as pull up a water damaged floor replace it. Unfortunately our next group had to cancel so it was off to July with the arrival of the return of St. Matthew's Episcopal Church from Maple Glenn, PA. With an almost total young group, they took on the task of tearing off half of a roof,
replacing and painting new fascia, soffit, and gutters
along with replacing the front porch railing. The following week brought the return of Pleasant Run Presbyterian Church from Cincinnati. Monday morning found them finishing up the downspouts and odds and ends of the prior week's project in town and then it was on to the model home to remove cabinets and flooring in the kitchen along with another bedroom. By Friday both bedrooms were complete, with carpeting and the kitchen floor ready for future vinyl flooring.
The middle of July brought a new type of trip to us, a Journey to Adulthood (J2A) pilgrimage from St. Margaret's Episcopal Church, Annapolis, MD. Staying at St. Timothy's, they spent several days traveling around central Kentucky learning about the history and culture of the area. Part of the experience of these teens was include service, so they continued work at St. Timothy's with more painting of fences and building another casket. On Thursday, they traveled to Irvine to build a ramp for a wheelchair bound woman to give her ease of movement to and from her house.
The month ended with a joint visit from St. Paul's Episcopal Church, Clinton, NC and Holy Trinity Episcopal Church, Fayetteville, N.C. As I write this, significant parts of the Clinton area are under water with flooding resulting from hurricane Matthew. Each day part of the crew held day camps for our youth. With wonderfully planned activities each day, all we can say is that the kids had a ball. Friday ended with "water day." I fear, without knowing it, the mud slide may have been preparation for what will be left after the rivers in North Carolina go down. And yes, Manford has forgiven you for ruining his grass with the mud slide.
But the day camp was only part of their work. During the week, they removed and replaced a front porch.
August began with the return of St. Andrew's Episcopal Church from Glenwood, MD. The week found them completing the railing for Ella's porch, adding steps to the side porch and then returning to Irvine to tear off and replace the second half of the roof begun earlier in the summer.
Unfortunately school had begun this week so there was not as much interaction with local youth, but as they have done in prior years, the assembled seventy backpacks filled with school supplies for children and teens from the mountain. By the following week, all had been distributed.
Our last regular mission visit was from the Episcopal Churches of the Hudson Valley, NY., who found themselves adding a new roof over a trailer,
wiring and insulating the addition. They also were able to repair a portion of a water rotted porch
and replaced flooring in a living room. While not something we have done before, our group became movers as we loaded the truck and car transporting trailer with donated items for St. Timothy's. Horizontal and standing cabinets, shelves, what seemed tons of weaving thread and even a piano were loaded and unloaded as we moved our newly
donated items into our buildings. August ended with a short return visit by a few of our April group. Working with our local ladies, they spent a day cutting, ironing, and sewing a flag quilt to be given to the Kentucky Chapter of Quilts of Valor, who will present it to a veteran.
But the year is not over. We still have planned another visit from Ohio to work on weaving, our Halloween Party, Thanksgiving "Fall Gathering" and dinner, not to mention the Christmas party and Christmas food baskets. With six weeks booked already for next year, I do not think we will be slowing down anytime soon.