The Appalachian Regional Commission has published it's 2017 listing of Economically Distressed Counties for the 2017 fiscal year and it doesn't look much better for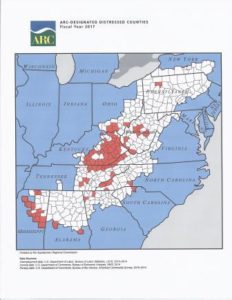 much of the region. A few counties have moved from distressed (counties that have at least twice the national poverty rate and have a per capita market income 67% of the national average or a three-year average unemployment rate that is twice the national average) to At-Risk while others have moved in a downward direction. All in all, the picture remains unchanged, with Eastern Kentucky almost entirely red. In total, eighty-four counties have received the distressed designation, with Maryland being the only state of the thirteen without such a county.  In Kentucky alone, thirty-seven are distressed, but there are another twelve that are designates "At-Risk". Throughout the Appalachian region another eighty-six have also been determined to be At-Risk. In Harlan County, whose beauty is currently plagued by the largest forest fire in the state, the population dropped from 75,275 in 1940 to 28,499 in 2013, the last year records are available. With no jobs, people are forced to move from their family homesteads in search of employment away from  family who must stay, often the elderly or ill. While there are faint glimmers of hope, the promise of fast and reliable internet service which seems unlikely for the rugged and sparsely populated rural areas of the county, and a small factory opening to produce an alternative energy source from wood pellets is predicting to produce 30-35 new jobs and another possible sixty indirect jobs.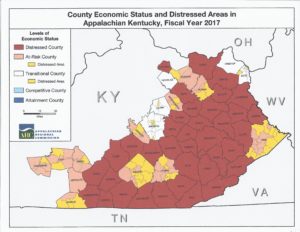 Estill County, where St. Timothy's is located has fared better since it has not been effected by the decline in the coal industry like the more eastern counties of the state, dropping only from 17,978 in  1940 to 14, 488 in 2013. It has, however lost two of its major revenue sources. The railroad, still very active in the mid-nineteen eighties hauling coal and timber from further east in the state, lost it'd repair facility to Corbin in Southern Kentucky (now also closing) in the late eighties. The predominant cash crop of tobacco, whose fields could be found on nearly every piece of flat land, including St. Timothy's, was once prevalent, now can hardly be found in the county. There is still timber for a few and school, healthcare and governmental jobs in the county, most find that to work, they must drive an hour or more to reach Richmond, Lexington, or Berea. Of those few who are not retired and regularly attend church services at St. Timothy's, all but one must make this daily drive to work.
It might sound hopeless, but no. People are working despite the drives. More and more young people are getting a high school diploma and more are going off to college. While many will leave for good paying jobs, some are committed to bring their talents back home. High speed Internet is not available throughout much of the county. Homes on and off the mountain are being repaired and built and efforts are being made to draw tourism and related jobs into the county. Its slow work. Often it feels like four steps forward and three back, but our work goes on. I wish Jesus had not said that we would always have the poor with us, but we will. As they say, "some people are just too sorry" (to work), but while those are the ones that often stand out and get noticed, it is the many others who care and seek a better life for their children and themselves. These are the ones who seek, knock and ask and who will find the open door.