"While I'm on sabbatical, I want you to do something." That is pretty much what Bishop Hosea told the Canon Evangelist, Phil Thomas.
And with that directive, St. Timothy's was born. From its inception, it was different from any other congregation in the Diocese. It was not created to hold church services, but to do ministry in the mountains. Thirty-five years later it continues this unique work in a changing community. It began as St. Joseph's Preaching Station in Ravenna in a building, really, a seventy-inch-wide alley with a roof, right across from today's Dollar General store. Before long, we leased, with the option to buy a seventy-acre farm on Barnes Mountain. That first summer we held a six-week day camp with about sixty children attending each day. Soon the church house was constructed from logs moved from two nineteenth century cabins in Maddison County. With two Commodore Vic-20 computers and small black and white TV sets, the young people learned to program them to make figures do jumping jacks and run across the screen and play Frogger from the cassette tape drive plugged into the back.
Today, our mission remains the same, to help improve the lives of people in Estill County while respecting their culture and dignity while proclaiming Christ not just in words. Our visiting groups in recent years have come from Alabama to Michigan and east from Florida to Massachusetts, many returning year after year. While our numbers are down this year, we have been visited by youth and adults from Toledo Area Episcopal Churches, Maryland, a repeating Presbyterian Church from Cincinnati, and even our own diocese, the Cathedral this year. We already have three weeks filled for next summer.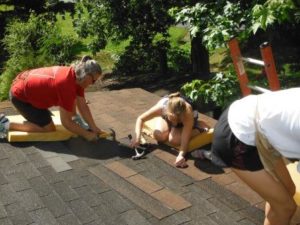 Our first group this year spent time repairing roofs, building caskets and working around St. Timothy's. Laboring in the heat and dodging thunderstorms, with only half the roof under new shingles, the elderly home owner met us the next morning to say that even with the torrential rain the night before, for the first time in months they did not have to sleep with buckets in their bed. Youth from Christ Church Cathedral were next to join us for three days. In the brief time, they replaced roof decking and facia and re-shingled the porch of one of the original members of St. Joseph's. Our Presbyterian friends constructed two more caskets,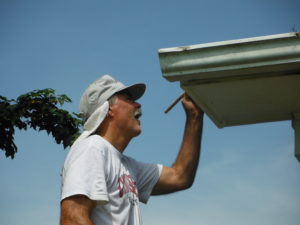 both of which were needed that week, installed under-pinning on a mobile home and painted the community room at St. Timothy's along with helping to repair and replace the glass in nearly every window of an elderly women's home.
Our summer season ended with a return visit with twenty from St. Andrew's, Glenwood MD. Over the week, they refurbished a bathroom, removing wall and floor tile and fixtures, adding drywall, a sink and vanity leaving only painting to complete. They also replaced a vinyl kitchen floor, painted and repaired outside wood trim along with building two caskets. Another portion of the group provided a day camp for local children, concluded by a visit of Bishop Caldwell, who remained to join us for a community meal with over sixty in attendance and then for the fifth year, the distribution of school backpacks. The highlight of the week for me occurred on Thursday morning. Over the week I had told the group that there were two deaths on the mountain the week before and neither person had been buried because the families were having trouble getting together enough money to the internment. The teenagers asked their adult leaders if they could take up a collection to help the families, whom they had not met. I was handed an envelope with the $266.00 they had collected. The Church is not dying with these as our future leadership. St. Andrew's will again be joining us in July of 2018.
On our last workday, a neighbor walked up wanting to know how they too could get help with their house. More than once, I have been approached at the gas station, or lumber yard, or Save-a-Lot by people who have a relative that needs help with repairs. At other times, the County Health Department will send us referrals. Be it the addition of a new room on a mobile home, repairing a rotten floor or a leaking roof, visiting youth and their adult guides jump in regardless of the task. While some of our visitors are close knit, others often have participants who are new. By the end of the week, it is amazing to see how they become one entity. Few of those helped can "repay" for the work done, but the gratitude is always given, be that with a blackberry cobbler or fried pies or a note of thanks. And as for the mission teams, they leave gaining more than they bring, for they learn what it means to go forth into the world rejoicing in the power of the Spirit.